Content Management
Tired of waiting days or weeks for your website designer to make changes to your website? Make that aggravation a thing of the past. Cyber Publisher, our content management system, makes editing websites quick and easy, and you do not pay extra for the ability - we build this feature into every website that we deliver.
Advantages of Cyber Publisher
Cyber Publisher is a proprietary Content Management System (CMS) that is developed and maintained by Cyber Technical. We provide a simple, intuitive framework that allows us to provide custom functionality to our clients through an integrated and seamless administrative backend.
Cyber Technical has chosen to develop a proprietary CMS so that we can quickly and effectively customize the system to the specific needs of our clients. As a result, we have been able to focus on keeping the client interface simple, clean and user friendly.
The technical complexity that exists in most open source systems has been removed because we maintain the complex parts for you. The client needs only to focus on managing their content, and they can do so with tools that they already understand such as WYSIWYG editors that act like a word processor, simple file browsing dialogs, multi-draft capabilities and more.
Easy Editing:
Updating your website is as easy as editing a document in a word processor.
We give you rich text editing tools that allow you to format text, upload and add images, drop in tables, create hyperlinks and more.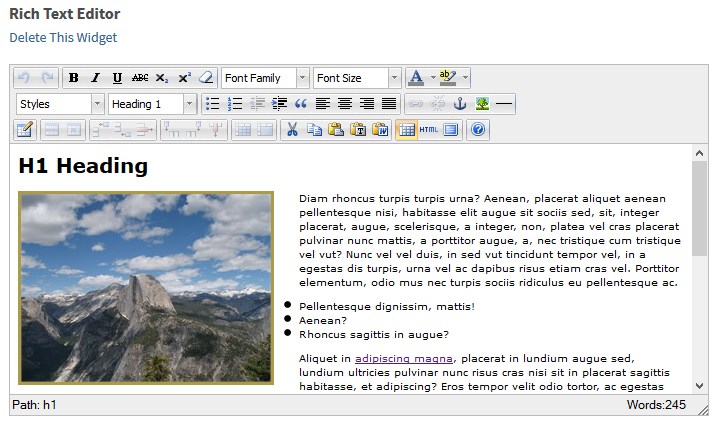 Easy Media Management
Creating beautiful image galleries is as simple as uploading a folder of images that was taken directly from your phone. Our system takes care of image resizing and optimization, and can even create mobile-optimized galleries that are compatible with touch based devices.
Search Engine Friendly (SEO)
Cyber Publisher makes it easy to create search engine optimized pages and content. You can set properties such as page titles, headings, keywords and meta tags while our framework takes care of the complexity of generating search engine friendly URLs and sitemaps.
Free Periodic Updates
As the internet evolves we strive to ensure that Cyber Publisher is changing to accommodate new devices and technologies. We routinely deliver free, periodic updates to clients that offer new features, bug fixes and user requested enhancements.